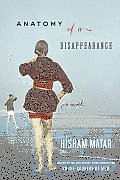 Hisham Matar's second novel, Anatomy of a Disappearance,  easily matches the promise of his first, In The Country of Men, [reviewed here] and is lovelier in image and language, though less obviously of Libya, the country of his origins.  In both the memories which compromise the story are of  a young boy.  In both the boys have exceptionally strong relationships to their mothers, both mothers are often sick — with intimations of depression, while their fathers are often away.  In both, their lives are shaped, in different degrees by political terror.
In the Country of Men, the young boy, Suleiman,  is in the country — Libya– of the terror.  His father disappears.  He and his mother wait and pray for his return; she tries to make deals with the security man across the street; she tells him to destroy all his father's books.  The normalcy of childhood is metamorphosed into something most of us can not imagine.  Finally, the father is returned:
His eyes were closed, full of air or water or blood, like split rotten tomatoes, and his lower lip was as fat and purple as a baby eggplant."  
Suleiman is sent to Cairo to be out of  danger and to finish his education; the story has come to an end.
In Anatomy of a Disappearance, Nuri, the narrator, is a young man in his twenties at the time of the story's telling.   Though born in Paris of an English mother and Arabic — probably Libyan, though never said–father, he has returned to Cairo, where he had spent his younger life, and to the love of the family servants.  Most of the narrative, and by far the most powerful, is of his adolescent years — from age 10, the death of his mother, to 22 when he finishes University.  Though the father disappears when Nuri is 14, there is none of the close violence of the earlier book.  Perhaps some moments of tension as we wonder whether Nuri, or his father's new wife, Mona, might be abducted by the same mysterious forces but these are minor in the lush exploration of memory, loss, desire and growth,  maturing away from the early love and into a knowledge of his father he might otherwise never have had.
Without knowing Matar's origins and background one would read Anatomy, unlike In the Country,  as simply a fine European novel,  playing out in Geneva, upper middle class Cairo and London, but without any sense of reading an "Arabic" novel.  Reference to the father's background, and earlier life are confined to mention of "our country," or that he was the "most trusted adviser to our king."  Cairo and Alexandria figure strongly in the story but this has been true of  fine British novels and don't necessarily "mark" them as Arabic.  Although I came across Matar in a search for Libyan writers, he is not an "Arabic" writer in the pure sense of that notion.  We are not reading a translation.  He writes in English. He was born in New York City and lived in Libya with his parents from age 3 to 9, when the family fled to Cairo from Gaddafi's violent persecutions.  His education has been almost entirely in English. He is one of a new breed of internationalist writers — as Ahdaf Soueif [and here, here] — comfortable in two or more countries, life lived and families still living in different cultures from which to draw upon; emotional, linguistic, imagistic ties to many parts.   Perhaps he could be called Anglo-Libyan, or Anglo-Arabic, or the reverse.  In any case he is a fine writer,  about whose allegiances there should be no quarrel: to men and women, to children, in their varieties.
The disappearance of the father is the event around which the telling revolves, but the novel is not an investigatory piece, or a mystery in the usual sense.  It is less an anatomy of the disappearance, than of the life and lives interrupted by it.  In the end it is the story of the young man discovering home, and himself, not in the country his father and mother fled but in Egypt, where they put their deepest roots, and with the Cairene maid/mother who brought him up.
Matar evokes nostalgia and memory with a fine sense of description and detail — the glow of a bathing suit strap across the arched ripples of a backbone, the imprint of a foot in the creamy instep of a shoe, the misted outline of a woman's body behind a shower curtain.  The first awakening of sexual desire in the 13 year old Nuri, and jealousy of his father, is so palpable we are at times uncomfortable.  A sort of Death in Venice in reverse as a young man is obsessed with an older woman, who leads him on, disturbs us, both by the separation of their ages and the sense of kind of incest  setting in.  Our caution alarms ring in our throats..
In both books we are treated to such evocative and unexpected images we have to pause and let them seep inside.  We want to return to them, to gaze as on jewels against the ordinary dross of language.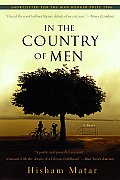 In The Country of Men we have such marvelous images as
"I couldn't leave her side, wondering if, like one of those hand puppets that play dead, she would bounce up again, light another cigarette,
and
in the faint glow I saw him on top of her, moving back and forth the same short sad distance, like one of those old ladies mourning the dead.
Anatomy opens with
"There are times when my father's absence is as heavy as a child sitting on my chest."
Later, describing the hotel in Alexandria where Nuri and his father meet Mona, he says
You could hear the waves lapping lazily against the shore like a snoring guard dog
After extracting a speck of brown thorn "from the soft pink flesh" of her toe, in an act of self-assurance he has never again felt, Nuri looks at her:
I watched her without restraint. I wanted to wear her, as you would a piece of clothing..to fold into her ribs, be a stone in her mouth…
These are both marvelous books, connected in their conception and execution but siblings who are completely their own persons.  Don't waste a minute in getting acquainted with their author. Anatomy may be a more compelling entry point for many, with its familiar themes of adolescent love, and the mystery of the man, whose disappearance is never solved even as hidden years of his life are discovered and  Nuri finds himself becoming more and more like the man he had been searching for.