Not only does the Mafia shoot, strangle or dump into river those who cross them, they sow the land with worse than Roman salt in Carthage, millions and millions of tons of toxic waste, reaping dumping fees and sowing death by cancer for their own children and those of their neighbors.
It's not that it hasn't been known, but knowing is finally finding its feet.
A group of 13 women who claim their children died of cancer after being poisoned by tons of toxic waste dumped in their region by the local mafia met with Italy's president Wednesday.
They traveled to Rome from their towns around Naples as representatives of some 150,000 mothers who sent Italian President Giorgio Napolitano postcards with photos of their dead or cancer-stricken children in the hope that he might put an end to the environmental crimes that have been perpetrated in their region for decades.
"We are want truth and justice," said one of the mothers, Pina Leana, at the presidential palace Wednesday. "We want facts, not empty words.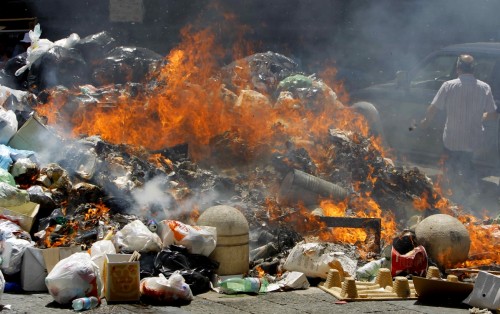 In 1997 a hearing was held about the dumping, taking testimony from a one-time member of the Casalesi clan near Naples. It was so detailed and implicated so many in the government it has been sealed until October of 2013.
"We are talking about millions of tons," Schiavone, formerly head of administration for the Mafia organization, told the parliamentarians. "I also know that trucks came from Germany carrying nuclear waste." The operations took place under the protection of darkness and were guarded by Mafiosi in military police uniforms, he said. He showed Italian justice officials the location of many of the dumpsites because, as he put it in 1997, the people in those areas are at risk of "dying of cancer within 20 years."
numerous officials at all levels must have known about Schiavone's warnings since the mid-1990s — and ignored them.
The pressure is particularly great on the following players:
Giorgio Napolitano was Italy's interior minister at the time and thus ultimately in charge of the investigation. Today, he is the country's president.
Gennaro Capoluongo was, according to Schiavone, in a helicopter that went on a tour of some of the toxic waste dumps. Today, he is Italy's Interpol head.
Alessandro Pansa was head of mobile units for the Italian police force at the time. Now he is head of the Italian State Police.
Nicola Cavaliere was with the criminal police at the time and was involved in the case, according to Schiavone. Today is the deputy head of Italy's domestic intelligence service.
and more at the NY Times