3 Million Year Old Whale Surfaces
Very cool.
"Workmen constructing a storm water equalization tank this week at the San Diego Zoo dug up a surprising find: a 3-million-year-old whale.
…Our genus, Homo, wasn't even around 3 million years ago, so this wasn't some sort of super prehistoric zoo. The site then, during the Pliocene, was under water.
…The age of this whale is interesting, as it coincides with what's known as The Great American Interchange, where various land and freshwater faunas migrated between North and South America. Many species went extinct then. But armadillos, opposums, hummingbirds and vampire bats all traveled to North America, while horses, tapirs, saber-toothed cats and deer entered South America. The first short-faced bears also appeared at this time."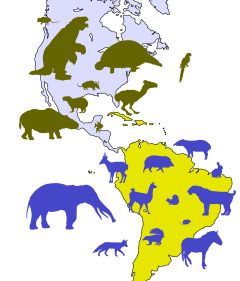 and for more on the Great American Interchange see here or the fine book, The Monkey's Bridge by David Rains Wallace.