Falcon Mania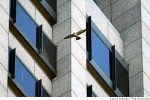 The periodic raptor rapture that erupts in big cities when nesting predators are found has come to San Francisco. Nice article in the SF Chronicle.
Dapper Dan and Diamond Lil, … have built a nest on top of Pacific Gas & Electric Co. headquarters at 245 Market St.

… The raptors' nest contains four eggs that are expected to hatch next week. Roughly 40 days later, the chicks will learn to fly. A few weeks after that, they'll be gone
There is a live cam on the birds. So far I have not been able to do more than get in line. Must be overwhelmed with interest.