Marin Sewage Spill: Again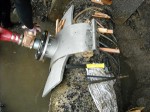 Another sewage spill into Bay Area waters, and again from Marin County — perhaps too proud of its green moniker to pay attention to aging pipes. This is the third significant spill within a year.
A southern Marin County sanitation district has spilled 500,000 gallons of partially treated sewage into San Francisco Bay, and the leak is not yet completely stopped. The Sausalito-Marin City Sanitary District reported that the sewage spill started around 1:00 pm Tuesday after a pipeline ruptured in the District's Fort Baker Treatment Plant in the Golden Gate National Recreational Area.
…so many spills have occurred in the county – two spills from another southern Marin County sewage agency last January dumped more than 3 million gallons of untreated and treated effluent, closing beaches and harming wildlife – that the U.S. Environmental Protection Agency in April ordered nine Marin County cities and sanitation districts, including Sausalito-Marin City Sanitary, to fix and upgrade decaying sewer pipes.